The Federal Communications Commission (FCC) is declaring a filing window November 1st to 8th wherein specific groups can submit applications for new Low Power FM radio station licenses.  This happens rarely but once every decade.  The FCC's Public Notice of the event can be found here:
https://docs.fcc.gov/public/attachments/DA-23-531A1.pdf
The application window will be open to only apply for non-commercial, educational low power FM ("LFPM") stations.  For review, there are four basic types of FM licenses:  Commercial, non-commercial, low power (LPFM), and translator/booster.
Commercial stations generally play hit music, run commercials, and exist to make profit (92.1-107.9 FM).  They can range from 100 to 100,000 watts.  
LPFM are small, non-commercial stations, up to 100 watts, whose purpose is to serve a specific community or sub-community within a large city. 
Translators/Boosters are automated transmitters that rebroadcast a primary station's programming to a new area, or an area of poor reception.  
Non-Commercial Educational (NCE) stations primarily exist between 88.1 to 91.9 FM, the "reserved" band, and exist to serve non-commercial purposes; they are commercial-free.  Non-profit groups, schools, and religious entities are allowed to apply for these stations.  Examples of the types of stations that primarily use NCE frequencies include National Public Radio (NPR), college radio stations, and Christian satellite networks.  Occasionally, NCE stations can be found on the non-reserved band (92.1-107.9 FM), but this is a result of a complicated petitioning process.  NCE's can range from 100 to 100,000 watts.
The FCC plans on opening a one-week application filing window:  November 1st, beginning at midnight, the window opens.  November 8th at 6pm EST/ 3pm PST the window closes.  An electronic application that is clicked with "submit" at 6:01pm EST will not even be accepted.  Note that this is the only time to file for a LPFM probably for the next ten years, and the last radio channels available in many cities.  
What is Low Power FM?
Low Power FM, or LPFM for short, was a service enacted by the FCC in the year 2000.  It is a type of broadcast license made available by the FCC for nonprofits, local nonprofit associations, government, schools, colleges, community (nonprofit) groups, churches, unions, etc.  This is opposed to "full power" stations, which are commercial stations for profit broadcasting at large wattages, AM commercial stations, and even non-commercial stations below 92.1 FM, such as NPR service.  LPFM is meant to be implementable on an affordable scale to local nonprofits, with a broadcast power from 50 watts to 100 watts from an antenna at 100 feet above ground.  This provides a broadcast range of radius 3.5 miles—and in some cases receivable 10 miles away depending on how many other broadcasters are using that specific channel, terrain, and weather conditions.
History
Although LPFM was enacted in 2000, lobbyists for the big broadcast companies lobbied Congress to halt its implementation soon after it was established.  They claimed that the new LPFM service caused interference to commercial stations, which ended up to be proved significantly untrue upon government-pursued independent study.  Prometheus Radio Project, RECnet, and Common Frequency have lobbied for years to reinstate the service, and the Local Community Radio Act was enacted by Congress in January of 2011, allowing the FCC to move forward with implementing the service again.  However, there are over 1500 stations on the air nationally, today, that made it through the original licensing process and a second filing window in October 2013.  Most of them are local church stations, but there are community groups and schools that have also applied for them. 
Now is the time to prepare to apply if interested
The FCC handles the LPFM filing process by stipulating "filing windows" for when applications can be submitted to them for new stations.  Unfortunately, these happen like every ten years.  If you do not file during the window, there's no second chance for a long time.
Who exactly can apply?
As stated above, nonprofits, local nonprofit associations, government, schools, colleges, community (nonprofit) groups, churches, unions, etc.  These are generally lumped into four types of groups:
a government or non-profit educational institution -- such as public or private school, or private or state university; non-profit organization.
an association or entity with educational purposes -- such as a community group, registered nonprofit, public service, or public health organization.
a disability service provider or faith-based organization; or government or non-profit entity providing local public safety or transportation services -- such as a volunteer fire department, local government, or state transportation authority.
tribal groups (established Native American reservations, or registered tribal organizations).  If not the tribe itself, the entity must be 51% or more controlled by a tribe.
Individuals cannot apply because these are non-commercial radio licenses.  Many individuals interested in applying can partner with nonprofits within their communities that they could submit an application under to apply for a license.  Note that the nonprofit does not need to be a tax-deductible 501(c)(3) nonprofit.  It only needs to be registered with the state.  It can be a nonprofit association, or some other type of not-for-profit organization.  A school or university is fine.  The station must pledge to be "educational" in nature, which is very loose in definition.  
Your best bet for applying is to find a nonprofit that has been established for two years or longer.  The FCC gives preference to granting licenses to "established nonprofits".  The criteria for this is:
75% of the nonprofit's board lives within 10 miles of the proposed antenna site.*
OR, the nonprofit's physical headquarters resides within 10 miles of the proposed antenna site.* 
For a public service entity:  It has jurisdiction over the area the station covers.
For a Tribe: Tribal land is within the service area of the proposed station.
*Outside the top 50 radio markets, that range is extended to 20 miles (see https://www.nielsen.com/wp-content/uploads/sites/2/2022/10/Radio-Market-Populations-Fall-2022.pdf).  
You can apply for a LPFM with a new nonprofit, but you won't get a preferential "point".  These points are important if multiple applicants file because they determine the winner in a scenario where multiple applicants apply for the same channel.  However, if you live in a rural area, or in an area with multiple open channels, that may not matter.
If you get the FCC permit and build the station, you must broadcast at least five hours a day.  This is easy nowadays with computer automation.
Parties to the application:
"Parties to the application" are entities or people that have the legal controlling right to make decisions regarding an organization.  This must be disclosed on the FCC application.  For a nonprofit it is usually a board of directors.  The parties to the the application:
Must be 80% or more United States citizens.
Does not have any control of any other broadcast license, daily newspaper, or cable television system.
Have no immediate family members who control other broadcast stations or daily newspapers in the area (the old version of the FCC LPFM application (Form 318) page 13, Worksheet 1A has checklist concerning family members: https://transition.fcc.gov/Forms/Form318/318.pdf). 
Have no drug convictions that have led to denial of federal benefits.
Have never been cited for unlicensed broadcasting ("pirate radio").
Have no unresolved character issues, or issues resolved adversely in a previous FCC broadcast decision.
Have been found guilty of a felony, mass-media related antitrust or unfair competition, fraudulent statements to other governmental units, or discrimination.
Exceptions to the above:
Tribal entities can control up to two LPFM stations (a single nonprofit can only hold one).
If your organization holds another broadcast license it agrees to divest that license if it receives the new LPFM permit (upon licensing – a request for divestiture waiver must be included with the application).
A public safety agency may control multiple LPFM licenses (e.g., a state organization that runs road safety information via LPFM in different areas).
A University that applies for a LPFM for student-use while its separate full-power FM station is used for professional uses (e.g., a public radio affiliate).
Your entity owns an FM translator that may be co-owned with the LPFM (refer to the rules).
Your entity is a chapter of a national entity that is locally incorporated.
In certain circumstances a larger organization (like a University), where there is a larger mission, members might have a controlling interest in other media but may recuse themself in decisions related to the LPFM 
Is there any downside, penalties, or liabilities in applying?
No.  It is just an application.  If you obtain a permit and don't build it, nothing happens—the permit just expires.  If you obtain a permit and don't want it anymore, you may also transfer it to another local group pending some potential compliance stipulations of the transferee.  
Where are channels available?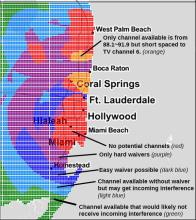 Unfortunately most larger urban areas do not have availability.  However, sometimes there are flukes or availability near the suburban edges.  You can initiate a cursory search via the RECnet website:  https://recnet.com/lpfm2023-map.  The map should create a graphic like below (without the color descriptions).  For what you need to know, the red areas mean absolutely unavailable.  The other colors gauge the degree of how difficult the engineering for the proposal is expected to be.  Note that just because a channel appears to be available, that does not mean it is completely executable for a real life station; it may be too difficult to propose for use to the FCC (e.g., a larger tower may be needed where one is not available), or there is the possibility there may be too much interference on the channel.
 
Example frequency availability graphic courtesy of RECnet.
To find out what specific channel(s) might be open, you may contact Common Frequency.
What exactly am I getting into by applying?  
You would simply be filing an application for a radio channel.  There is no certainty that you might receive it.  There is no liability in applying.  Nobody is forcing you or your organization to build a station, and even if you obtain a permit to broadcast you can surrender it without any repercussions.  If you receive a permit to broadcast, you have three years to construct your station.  Usually after a filing window, if nobody else has applied for the channel you applied for, you could receive a permit within as little as a month.  If there are multiple applicants apply for a channel, it could take months – up to a couple years in rare circumstances – for the FCC to make a decision.
Do I need any equipment or need to know anything about broadcasting to apply?
No.  Like the last question explained, there is no expectation of even delving into broadcasting unless your group obtains a permit.  At that point you have as long as three years to determine how to go about constructing something.
Do I need to select a broadcast site prior to applying?
Yes.  Although this location can be changed in the future, you need to work with the technical consultant helping you find a channel to find a broadcast location.  The FCC requires you to contact the site owner to see if there is availability on the tower (or rooftop, property, back yard, etc) location prior to applying.  This is called "reasonable assurance".  Proof should be in written form, like an email from the site owner.  This step is essential.  However, "reasonable assurance" is not signing a lease or agreement to use a tower; that should definitely not be pursued.  
How do I go about applying?
All filing for FCC FM channels is executed via the FCC Licencing and Management System ("LMS").  The LMS login URL is located here: https://enterpriseefiling.fcc.gov/dataentry/login.html.  Previous to filing, you need a personal FCC Registration Number ("FRN") account https://apps.fcc.gov/cores/publicHome.do.  Afterwards you can obtain an FRN number for your nonprofit/school/church etc.  The instructions for the LPFM electronic form (Form 2100, Schedule 318) are located here: https://www.fcc.gov/sites/default/files/lms-318-construction-permit-application.pdf
Can I fill out the application myself or do I need someone else to do it?
The FCC originally set out in 2000 to have an application that the general public could fill out without much outside assistance.  However, there are certain aspects of the application that if you make a mistake, you cannot amend it, and the FCC automatically dismisses it.  This primarily concerns declaration for FCC LPFM points, applicant qualifications, and specific aspects of the engineering.  If you read the application instructions clearly, it is possible to do the non-engineering portion yourself.  We strongly advise, though, someone that is acquainted with a radio technical background, or is familiar with radio applications, to fill out the engineering section, or fill out the entire application.  Common Frequency can provide lower cost fee for service for filling-out the application technical portion, and also completing and submitting the entire application (Common Frequency has submitted hundreds of FCC applications).  Alternatively, Common Frequency can refer to you other third party services that may assist with your application.  At times, some applicants opt to hire a professional broadcast engineer and a communications attorney to make sure the application is submitted with a high level of accuracy.  Common Frequency is also available to answer your questions concerning LPFM as a courtesy as time permits.
Can I file for an LPFM station if I got busted by the FCC for pirate broadcasting?
No.  More precisely, if you were were recognized by the FCC for unauthorized broadcast, you cannot be on the governing board of the nonprofit filing the application.  It is ok if you are assisting the nonprofit and working under them as long as you are not listed on the application as having a voting share on the board.
What is the procedure for filing?
During the filing window you file an online application at the FCC's website.  However, you need to prepare that application in advance, as soon as possible, to make sure you have obtained all the information they want for the application.  The technical portion needs to be done in advance.  Common Frequency is available for assistance, but it is best you engage help as soon as you are able.  If you start pursuing the request for assistance a week before the filing window many specialists may be too busy to assist.
What are the costs associated with filing?
Filing with the FCC is FREE.  If you obtain the license from the FCC, that is FREE too. 
How will competing applications be resolved?
In urbanized areas there are a limited number of channels available.  It is certain to expect multiple applications from different local groups for these channels.  In the cases of multiple applicants asking for a radio channel, the FCC has developed a "point system" to determine which applicant(s) it will choose for using that channel.  The point system is as follows:
Points can be claimed for:
Being an established local applicant.  "Established" means your nonprofit has been around two or more years locally. 
Pledging to produce at least eight hours of local programming every day.
Pledging to maintain a local studio in the community and staff the studio at least 20 hours a week.
Pledging to meet the "local programming" and "staffed studio" requirements both above (a bonus point).
The applying organization holds no broadcast station licenses.
The applicant is a Tribal Applicant located on Tribal lands.
What is the minimum cost of starting a station and when would I anticipate having to fund raise that money?
The application process of granting a LPFM license could take anywhere from a month to two years.  When the application is finally granted, the FCC gives you three years to build.  So you have a lot of time to fund raise for that day.  Costs of equipment for starting a station vary.  If you're an online student station, it just might be a matter of purchasing a transmitter and antenna, placing it on the roof, and hooking that up to your web-streaming studio.  A cheap transmitter manufacturer, for example, is offering a 150 watt transmitter, a stereo coder, antenna, and coax cable package for LPFM for $5000.  The FCC also requires purchasing an Emergency Alert System box for $2600.  This is the type of equipment you would pursue if you are installing it on the roof of your building.  Costs start from there if your studio location is different from your transmitter location.  In this case, you would try to use the internet or a "wi-fi bridge" to port your audio to the antenna site.  At times you might lease out a tower location to maximize coverage.  This is an elevated goal to work-up to.  Contact Common Frequency for a more accurate estimate of cost. 
Here is also a video from 2013 from Prometheus Radio Project that outlines some fine points about creating a low power FM station (keep in mind some information pertains specifically to the 2013 FCC LPFM filing window -- some of the talking points might be changed or be outdated). Common Frequency works in coordination with Prometheus within the community radio movement. CF is headquartered in the San Francisco Bay Area, while PRP is located in Philadelphia. CF tends to have western-US activity, while PRP is more east-coast-centric, but not always!
If you don't have a studio, the cost again varies.  At the beginning, a PC can simply play automated programming.  You can work up to running a station with a Radio Shack mixer, computer, and microphone, or purchase actual broadcast equipment.  As you see, the costs could be $500 up to thousands depending on what you have on-hand, donated, or used.  The cost of running a station varies greatly.  Some people run their station right from their house or a closet at their nonprofit.  The overhead is the power (100 watts, that's what an incandescent light bulb uses, right?).  This overhead could be a nominal power bill to thousands if you are renting a place.  But it could be any figure if you need to rent a space or pay someone to run the station.  If you are a student station, it is likely there will be no other costs associated except merely running the transmitter.
How can the station sustain itself?
These are non-commercial radio licenses, meaning, you can't run commercials on the radio to make money.  However, NPR and PBS run million-dollar operations without running commercials either.  The same rules that apply to a NPR station for fundraiser apply to LPFM.  This means you can do on-air fund drives.  This also means you can do on-air "underwriting".  This means a local business can donate money to you station for pre-paid announcements that tell listeners about their local business.  Donating money to your station is tax-deductible if your license is held by a 501(c)(3) nonprofit.  If you are an online/streaming station now, broadcasting to the local public really opens an opportunity for you to generate income because you are reaching a local community of possibly thousands of potential listeners that could donate to your station, or businesses that would give you money to run announcements to be heard by these listeners.
Once operating, can the LPFM license be transferred to another nonprofit?
Yes. Although the transferee must maintain the constraints of any point qualification that the original LPFM was granted under (within the first four years of continuous operation).
Extra: Community LPFM Radio
Although no FCC designation, we would like to mention the concept of "community radio" because Common Frequency supports the establishment of such stations.  A community LPFM radio station is where members of the community can volunteer to participate in the democratic process of taking part in access to the airwaves for the betterment of the community.  Community radio:
creates an outlet for local musicians who can't get exposure on commercial radio
promotes the bevy of independent music released—the 99.9% that doesn't get played on commercial radio.
provides an outlet for underrepresented cultural groups to promote cultural identity through music, or unit locals through discussion of issues that matter.
provides a conduit for art and culture:  Art, poetry, book reviews, radio theater, etc.
creates opportunity for youths to elderly to participate in music to local informational programming to create a sense of community.
creates a platform for coverage of local live public events such as sports, city council meetings, local election coverage, debates, and public call-in shows.
creates a base for local activists to provide public affairs programming on local issues such as environment, zoning, educational, etc
Examples of LPFM

For more information, email Todd at todd [at] commonfrequency.org